Change Log
Changes & updates to the transmate platform
2023-01-23
Transmate Portal
Freight Invoice
Freight invoice cost item selection is now stricter. Only cost items that are fully approved can be selected. Also a stricter filtering is done to avoid cost items from being invoiced twice.
Partners can now upload invoice documents by default, where this previously needed to be set up one by one.
Wrong currency field in UI field now fixed.
Project dashboard
Grid state is now preserved after modification. When modifying the poject inbound or outbound grid, the column order, the filters and sorting are saved so that when you return on the project dashboard page, you do not need to redo the column selection.
Project grid sorting is improved, to allow fixed sorting rules again. The sorting order can be defined in the partner's coding section and is used to enforce a different sorting.
Redirect after shipment deletion is now improved. If working from the project dashboard, you are now redirected to the dashboard once again instead of the shipment overview page.
API
The invoice API is improved to capture the grouped cost center / cost unit cost aggregation.
Other
Minor changes & performance improvements.
2023-01-16
We are pleased to announce the release of Transmate's newest version featuring a range of powerful new features for freight management and procurement. Our platform now offers an improved shipment overview, improved invoice cost filtering, as well as better partner management to streamline your logistics operations.
Transmate Portal
Shipment overview
The shipment overview has been converted to a grid type overview. This allows you to easily copy the data to an excel or to documents. With this overview, you can:
add columns from the available columns
pin columns
drag columns
The existing view and filter configuration remains in the view settings, allowing you to define which shipments are visible and which not, store and share shipment views.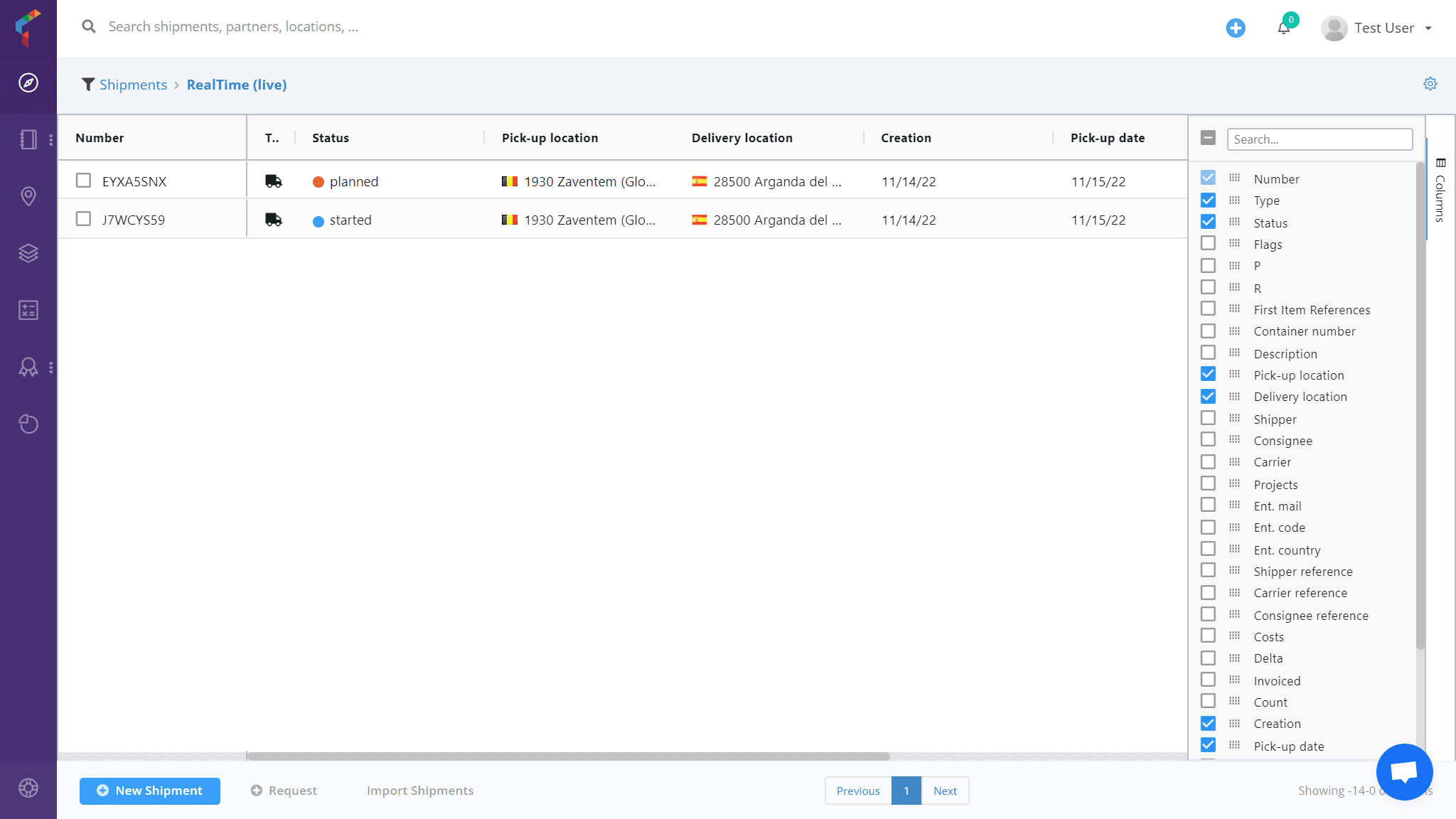 We also made a major improvement on query performance in the shipment overview, allowing searches to run faster.
The scheduling overview remains available for views that hold a location filter. To learn more about creating a schedule overview, please read the following article link: https://www.transmate.eu/help/shipment-scheduling-tool/
Project dashboard
We improved the sorting functionality by allowing sorting on all fields. Clicking on the header will toggle Ascending, Descending or sorting off.
API
The invoice api now returns a summary field as well, summarizing the details of the invoice lines by cost center and cost unit if allocated.
Other
We have continued optimizing our platform by fixing some minor bugs and adding some technical improvements.
2022-02-10
Highlights:
Warehouse picking screen improved with direct link to DHL and parcel carriers to fetch shipping options, costs and lead times.
Pick & pack of goods in boxes
Offer boxes for parcel shipping
Get shipping options with prices
Confirm option and retrieve parcel label
Print manifest from warehouse view
Get tracking numbers
2022-01-01
Highlights:
Brand new year, various updates are available!
Shipment overview: Make context more clear for partners (carriers that are bidding but have not yet assigned to will get a label indicating the bidding status)
Transport modes: Allow for express and parcel to be selected in transport modes
Spot bidding: Fix spot rate bidding for complex spot rate requests with multiple items.