Change Log
Changes & updates to the transmate platform
2023-08-07
Transmate Portal
Shipment overview enhancements
It is now possible to select a smart date field for pickup and delivery. This field will either use actual, the scheduled or planned pickup or delivery time, depending on the availability. You can adjust your view by clicking the gear in the top right corner of the shipment overview. Search for the smart date field and filter or select this field in the columns and save your view. Note: public views or views that are shared with you are read-only, save a copy of the view instead.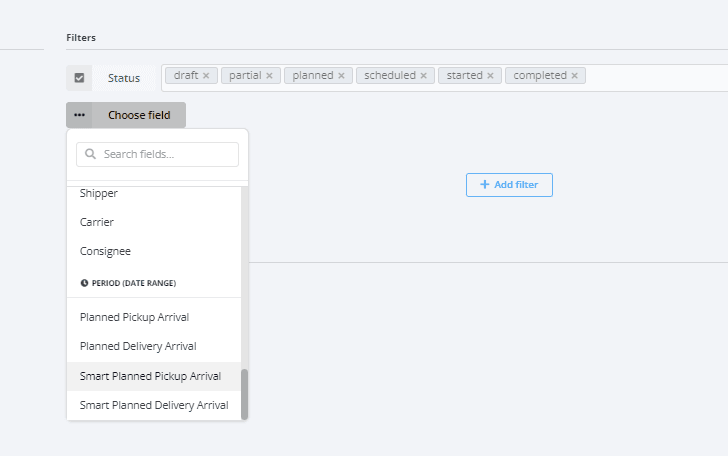 We also made it easier to switch between view modes in the shipment overview. In the top right corner different icons are visible that allow you to switch between the display modes:

The following modes are available:
grid (table) view
calandar view - if the view allows it
timeline view (currently in beta)
If a view has calendar enabled, it will view it in calendar mode by default. Tip: you can create a calendar view by selecting the pickup or delivery address filter in the filter section:

Timeline overview mode
It is now possible to view the shipments on a timeline. The current view (including its filters) can be shown as a timeline overview, grouping the shipments per destination. We will further enhance this view in the coming period, so your feedback is always welcome 😉
A sneak peak of the new timeline view: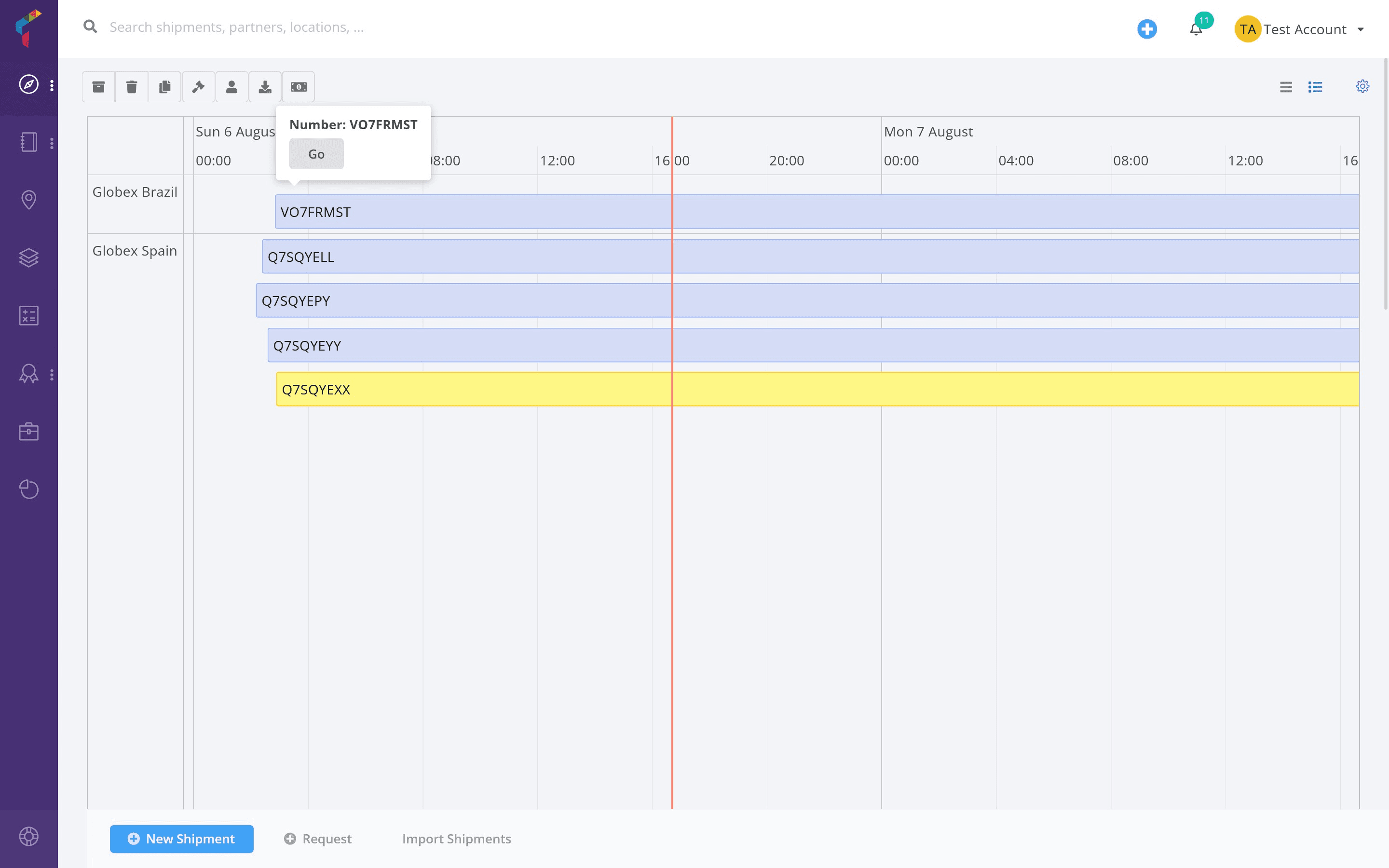 pro tip: you can select shipments in the timeline view just as with the grid view to perform mass actions! Hold the ctrl button and select the shipments. The mass action menu will appear.
Shipment Navigation
In-page navigation in the shipment page just got an upgrade as well! You can now jump to the section by clicking the shipment navigation icon in the page. Select the section of interest and you fly to the section. You can also share the url pointing to the specific segment for easier navigation.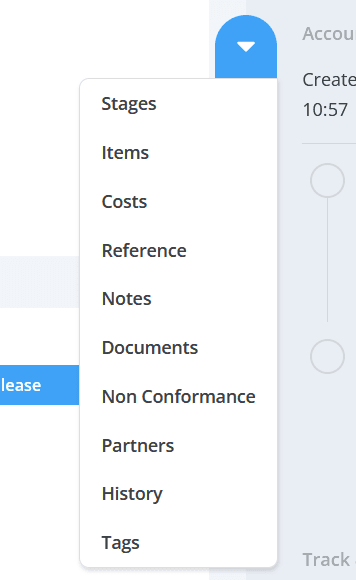 Transmate Mobile
Based on your feedback, we loosened the status filters in order to show trips (shipments) in a delivery location that have not yet departed at the pickup location. This gives a better oversight of all inbound shipments, regardless if they have been picked up or not, and can help the people on the floor to better plan operations.
It is now possible to share a link to the trip (shipment) in the mobile app. You can copy the link in a Whatsapp message and your contact can open the exact shipment in his app.
API
Various updates were done in our API and underlying system. First of all, several background jobs got a performance upgrade to have them processed faster (document generation, emails etc.).
We are also better tracking email delivery prior to retrying (especialy while large volumes are sent during a short period of time.).
We also fixed the items in the dashboards, where some deleted items remained visible. This has been corrected.
2023-06-19
Transmate Portal
This release note highlights recent updates to Transmate's Portal, including improved project dashboard functionality, addtional customs fields, and shipment tracking. At Transmate, we continuously strive to innovate and improve our platform to better serve our customers.
Invoice pages
We upgraded the invoice overview & partner invoicing overview to the grid view. This allows to quickly filter in the data on the various columns, copy the data to excel and quickly drill down in the invoice details.
The invoice functionality also got a major update. We upgraded the benchmarking calculations that handle shipment cost versus invoiced cost calculations. We now handle consecutive invoice rounds better, allowing partial invoices to be cleared more easily.
Following the invoice calculation updates, we improved the auto release function for invoices. If a partner releases an invoice that passes all checks, the invoice is released automatically to the payment system.
Shipment project pages
The shipment project overview page now shows the count of open shipments (shipments not in completed stage) in the table. This helps planners to quickly see which projects are not completed yet.
In the project detail page, a quick action pane has been added. Expanding the pane on the right hand side of the grid, gives you access to a set of quick filters for the dashboard. Load different filter configurations clicking the buttons.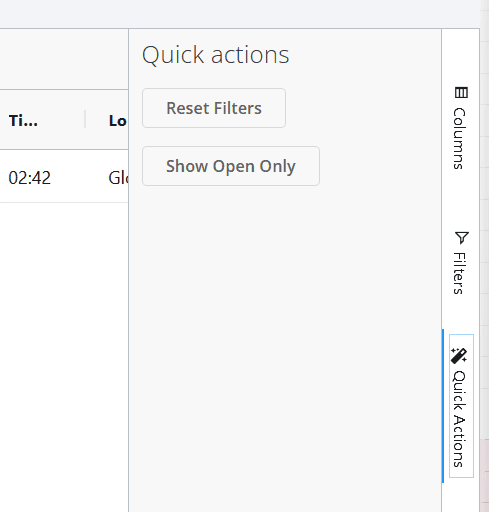 General
All grid views did got an update as well. The update should boost the performance of all grid view pages. A bug in pagination should be fixed with this update as well.
Carriers that were invited in a large amount of spot tenders, experienced an overload in email traffic. You reacted, we listened. We now limit the amount emails sent.
First of all, we installed a better email redundancy. Previously, when the receiving mailbox did not give the ok on "message received", we sent a 2nd email as fallback. We now have a better waiting mechanism that only will send a follow up email when we are sure there is no ok after a certain period in time. This will halt all double emails on price requests.
Secondly, we turned the default settings of many notifications to "off" to reduce the email messages in your mailbox. Please check the notifications settings in the control panel for granular control in mail messages if you want to further reduce messages.
Transmate Mobile
A new release has been rolled out to the app stores and can be downloaded now. Make sure you check out our page:
2023-05-24
Transmate Portal
This release note highlights recent updates to Transmate's Portal, including improved project dashboard functionality, addtional customs fields, and shipment tracking. At Transmate, we continuously strive to innovate and improve our platform to better serve our customers.
Project dashboard
Quite some movement in the project dashboard grid. More fields are directly editable from the grid, saving you valuable time to edit shipment information. However, some bugs persisted in the system. We got these fixed:
In the project dashboard, we fixed the date filter. Quick filtering on a date or a date range can be achieved by clicking the date header, and selecting the values in the filter popup.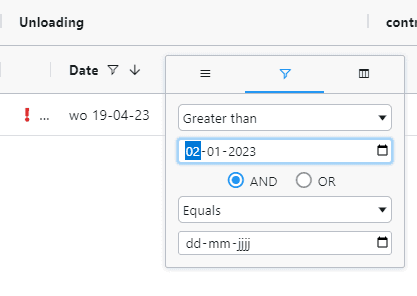 The problem when editing item descriptions in the grid is fixed again. Double click on the cell to edit the item description. Stepping out the cell saves the value in the background.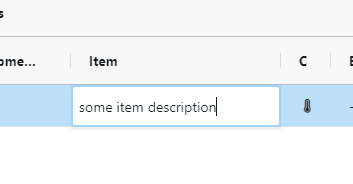 Other issues with editable fields such as dates have been fixed as well.
Bear in mind: only shipment owners (the account that have created the shipment) can edit shipments in the grid. Partners can only edit specific fields in the shipment itself.
Customs fields
In both the shipment detail as in the grid, a set of additional fields for customs and customs clearance have been added. Shipment owners can now edit declaration document references (both import and export), the amount of colli and weight from the shipment item modal as well as the shipment project grid.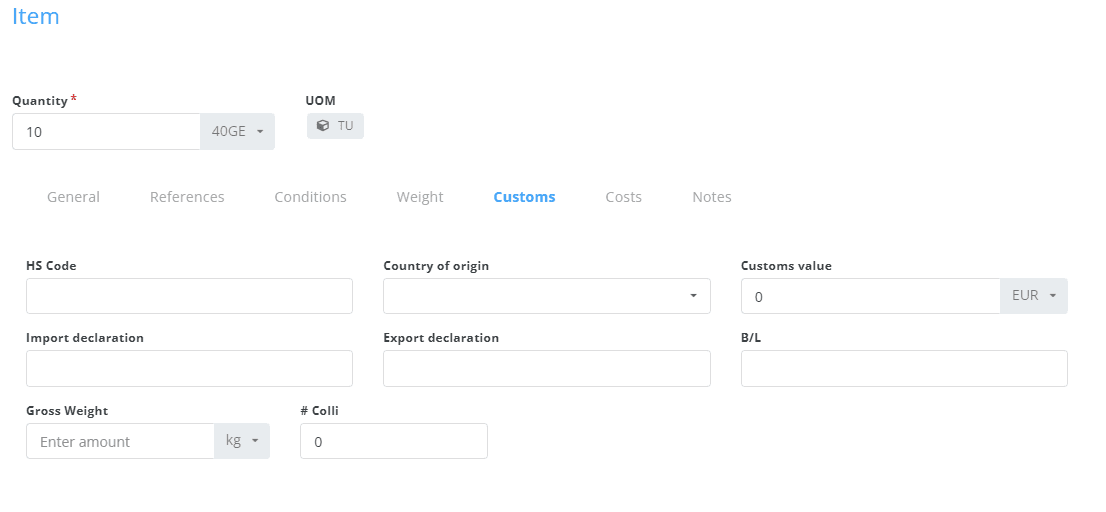 note: the fields are not shown per default in the grid. You can add these fields through the right hand side columns menu: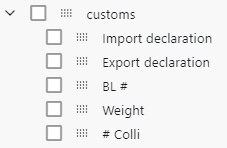 Shipment details
We extended the shipment history to also include changes in scheduled and planned dates. This will provide more transparancy into when and by whom a specific date has been modified.
For shipments where carrier allocation is automated (e.g. with warehouse picking, where a label print triggers the carrier allocation), the shipping costs are now recalculated and the totals become visible in the shipment page.
Spot bidding
A bug where carriers would bid twice on a given shipment has been fixed. In rare cases, a carrier could place consecutive bids on a shipment which resulted in an error. Measures are now in place to ensure smooth bidding under all circumstances.
2023-04-21
Transmate Portal
Document download
Transmate Portal is getting a set of new features that are sure to delight its users. The first feature is the ability to download groups of documents as a ZIP file. This new feature will make it easier for users to manage their documents and share them with colleagues, partners, or customers. By downloading documents in groups, users can save time and avoid the hassle of downloading each document one by one.
For shipments, you can either download a zip from the documents section in the shipment, or even directly from the shipment overview. In the latter case, you can download all documents from the selected shipments all at once.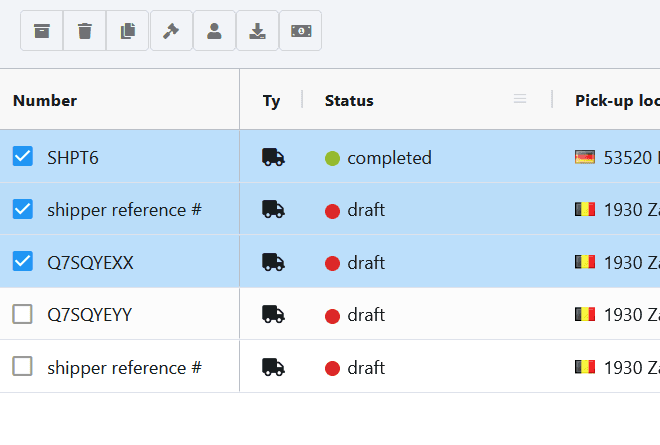 Invoice itemized selection
Additionally, we now allow the selection of itemized costs during the invoicing process. This feature gives users more control over which costs of a shipment are invoiced and which not. To do a granular cost selection, you can enter the reference of the shipment in the search field and select the shipment. The available cost items are then shown. When confirming the selected costs, only these will be flagged, keeping the other cost items open. Especially for more complex invoicing sequences, this feature can come in handy.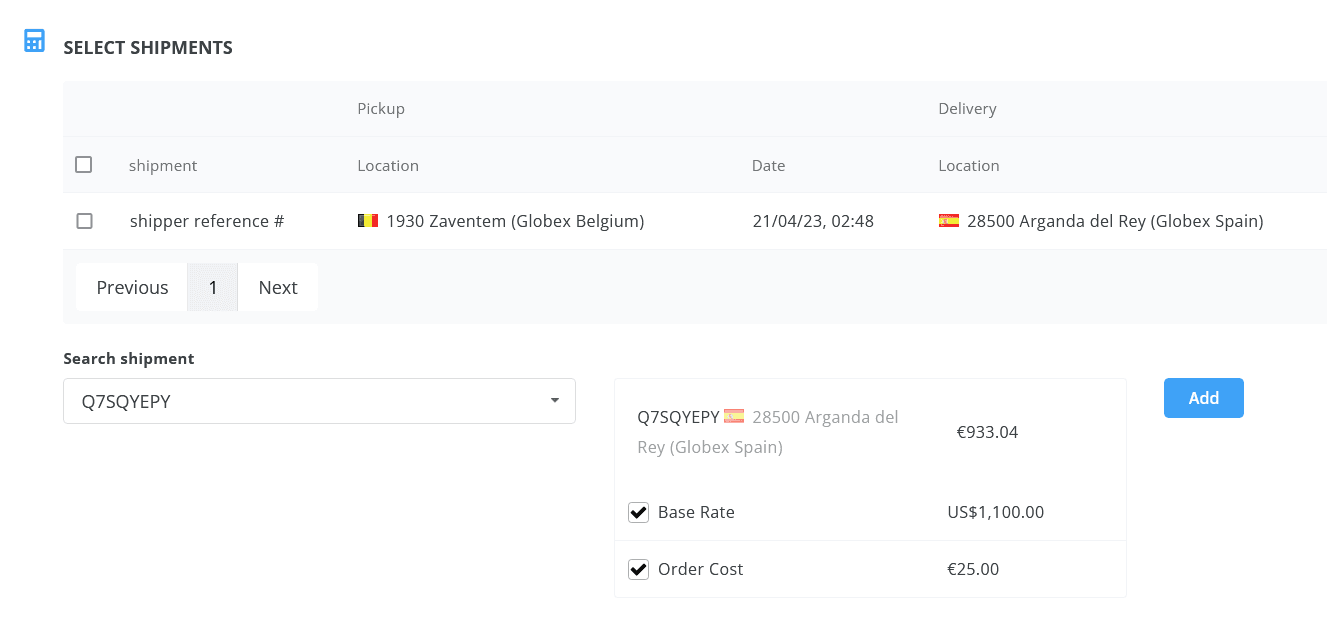 Tracking allocation
A new feature is being introduced in shipment carrier allocations. If a user chooses a carrier option that is not considered the 'best fit' option, they will be asked to provide a reason for their selection. We will monitor missed opportunities in the background. Supply chain managers can use the reason code provided by transport planners to have more productive discussions with carriers regarding service offerings or to negotiate appropriate services for their company.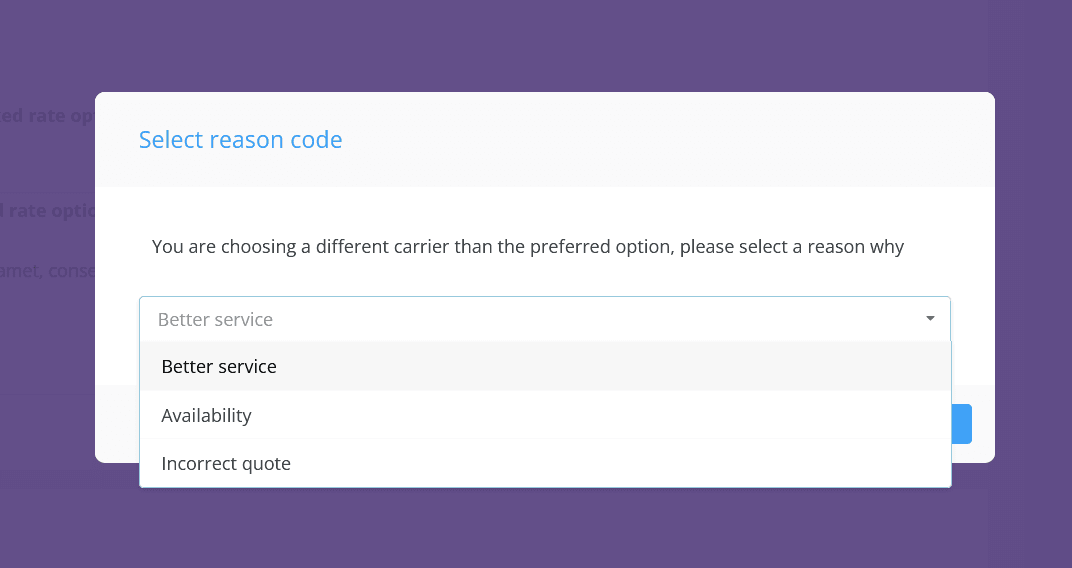 Transmate Mobile
Transmate Mobile is getting a new version that is currently in beta testing. The development team is working hard to bring new features and improvements to the app, providing users with a better experience.
While we can't share all the details yet, we can tell you that this update will bring significant changes to the app. Stay tuned for more information in the coming weeks as we get closer to the official release.
API
No changes
Various
Various changes have been done in our API as well, mainly related to new mobile app features. Also, automated workers have been upgraded to improve freight invoice verification functionality.
2023-03-13
Transmate Portal
We have updated the way how bidding notes are handled in the rate request process. The notes are now copied over into the shipment and will remain visible in the notes section. This way, valuable bidding information remains easily consultable in the shipment after the carrier was allocated.
It is now possible to add additional charges to multiple shipments at once in the shipment overview. Select the shipments that need the charge, then click on the add charge icon on the menu. A modal appears that allows you to add costs to the shipment - including additional partners.
Apart from that, we made it possible to edit (manually added) shipment costs in the shipment more easily. If you hold the necessary rights, you can edit the cost by clicking on the edit icon on the right and the modal will appear.
Linked to the mobile app, you can now edit the carrier's contact phone number in the proper formatted way with international phone code in the stage. This will facilitate the mobile app's push-to-call function, and ensures the phone number is valid.
Live shipment tracking
As of now, live tracking or all parcel carriers is enabled. This will actively get the tracking information on parcel shipments. Based on the retrieved information of parcel carriers, the shipment status' will be updated, and planned and actual delivery dates will be set.
But there is more! In the shipment page, you will see at the top of the stage, a message block that indicates if the shipment is being tracked:

when clicking on the more info, you can access the full list of all updates we could retrieve from the external API: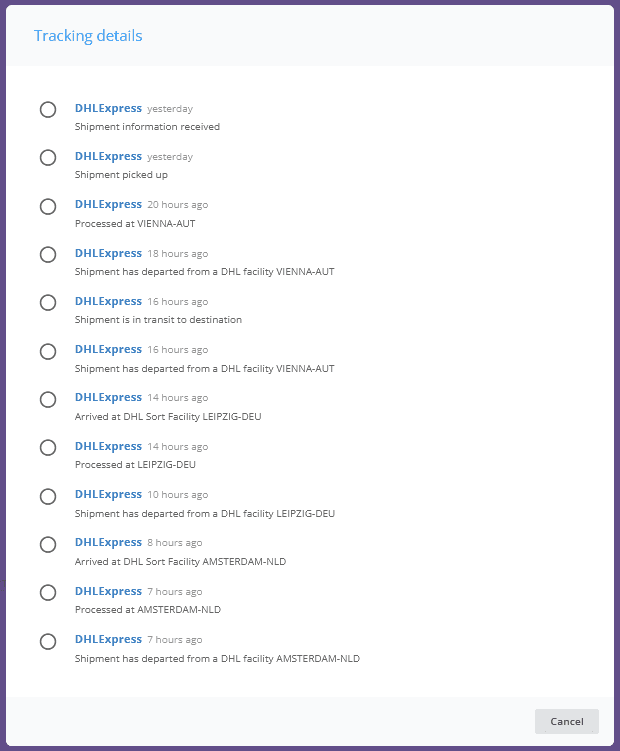 Transmate Mobile
A lot has moved in the mobile app development lately. We are currently beta testing the mobile app in the field and will have the updated version available in both Google Play and Apple's app store soon.
API
The invoice API was updated to now group the shipment's invoice notes into a single consolidated field. This will make using the consolidated notes field in external account platforms more easy to read.
2023-02-20
Transmate Portal
Shipment overview
We added some standard views such as an overview for bidders that lists the shipments that are part of price requests, overviews for carriers for all allocated shipments, and some standard views that pre-filter the list more conveniently.
Freight invoicing
In the carrier self billing flow ( where a vendor creates the invoice for the shipper to approve), it is now possible to add a revoke message and reason. When revoking, a modal appears and allows the client entity to select a reason and some free text, which will be visible for the vendor.
The vendor will get more clear message on what the acceptance status is for an invoice, and can consult the decline reason for him to take action:

We are also rolling out a more robust automated audit flow that will automatically release invoices that pass validation criteria. This will allow faster turn around times in freight invoice verification. Invoices can be approved automatically seconds after the vendor (freight carriers or forwarders) have released their invoice to the client, and immediately exposes the invoice in the external API to be picked up by payment systems. We will be rolling out more functionality in the coming weeks.
Mobile app
Transmate's mobile app is making huge strides every day. After its beautiful redesign of the trips search and filtering system, we made further enhancements to make finding trips simpler and more efficient than ever before – now you can set bookmarks for filters and quickly load them into your search when you need them! We also integrated new quick filters for both inbound and outbound trips to simplify your searches, along with increasing visibility of the shipment information within each trip! Transmate is always improving their product for an easier, faster experience for its users.
Apart from that, the trips overview now groups on shippers instead of locations and folds it smarter: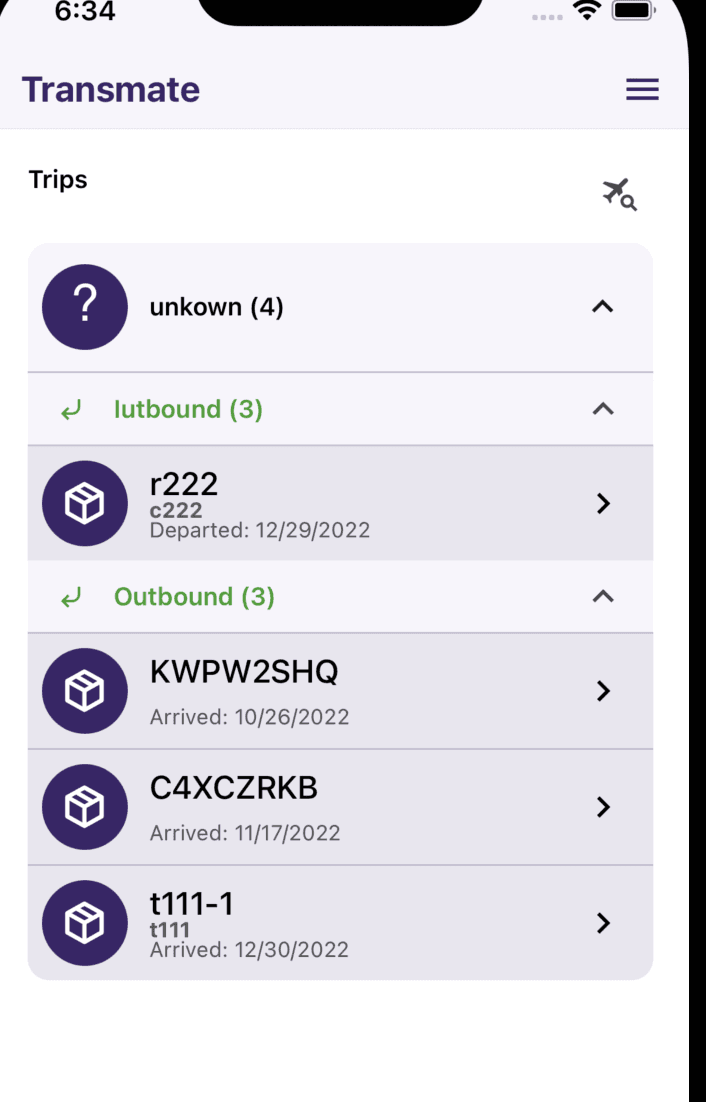 Container numbers and reference numbers are made visible as well if they are available.
API
Various changes have been done in our API as well, mainly related to new mobile app features. Also, automated workers have been upgraded to improve freight invoice verification functionality.
2023-02-06
Shipments
It seemed that some browsers weren't correcty rendering the map in the shipment page, so we fixed that.
In the stages block, both shippers and carriers can now add driver information - phone number included, truck or vessel information and notes. This information will be directly available in the Transmate mobile app and can be used to phone the driver from within the app.
We have added the entity information of the shipment clearly visible in the aside at the top right. When partners access the shipment, place bids are want to create their invoice, the entity information is always consultable.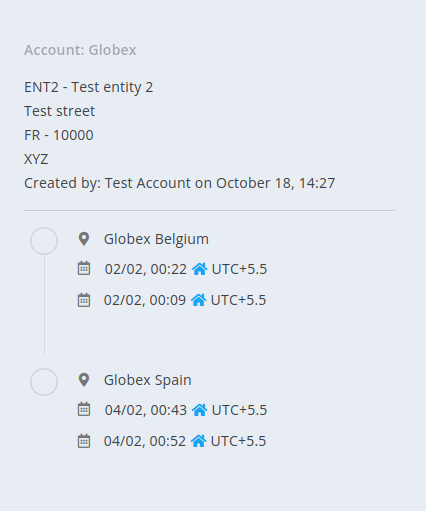 Projects
Each shipment project now has a reporting tab, visible to admins. This tab shows all shipments, costs, invoicing statuses with a breakdown per cost center, if available. Users can drag and drop columns, filter and sort, .... and pivot.
Invoices
A settings section is now available for client admins. In this section, a 'do not sync' flag can be set that prevents the invoice to be synced with the accounting system through the API. This can come in handy if the invoice was already handled oustide of the system, but the shiments needs to be flagged as invoiced, and statistical data needs to be complete
Previously, when an invoice was deleted, the shipments would not come in the available shipments list by default. Users would need to add them manually throught the search. Listening to your feedback, we made it easier to (re)add shipments after invoice deletion. The shipments will become visible in the open shipments table and can be selected.
Various
We made it easier to maintain company entities. In the platform settings, administrators can modify, add or delete entities more easily.
API
We modified the invoicing API to ignore invoices with the 'do not sync' flag (see invoice remark above). Furthermore, we modified the invoice list API call to better filter the invoices that are are already flagged as synced.
Other
As always, we applied various performance updates. Also, we are working hard to implement a ton of new features in the mobile app. So more to come!
2023-01-30
Transmate Portal
Shipment overview
A fix for the shipment overview's date filtering error. Now it is more easy to filter on today's loading or similar queries: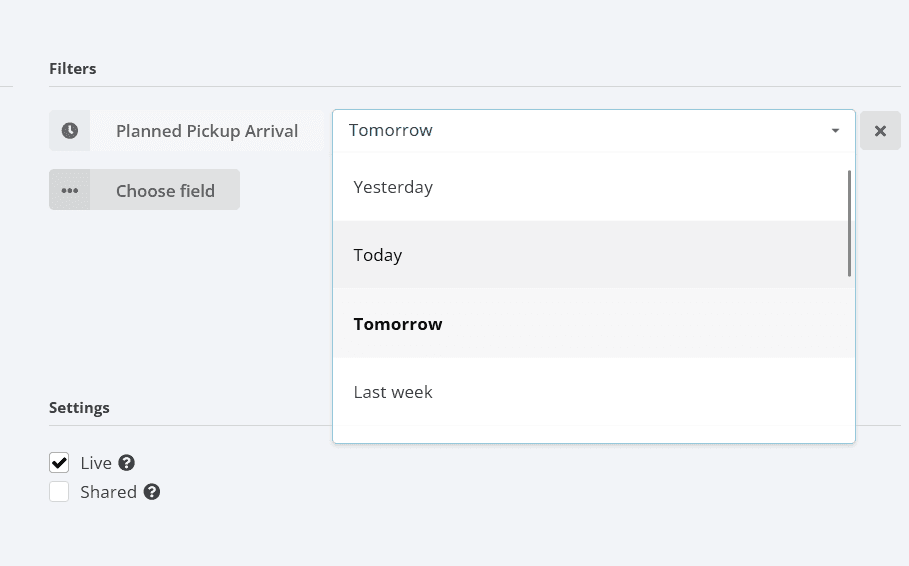 We have done a UI upgrade in the shipment history section with clearer user tags.

Shipment projects
In the shipment project's pages, there is now a new admin section that offers data reports including accounting data and cost center breakdown. Furthermore, we fixed the sorting of carriers.
Freight invoice auditing
The invoice section has undergone changes too. We modified the access rules to release and approve invoices. Also, now it is possible to recall released invoices, as long as they are not flagged as synced with the API. As of now, we will also roll out a more transparent invoice history section, so that it is more clear who has done which updates when. This history section can be found in the general tab.
API
We rolled out some updates in the invoicing API this week.
Other
Minor changes & performance improvements.
2023-01-23
Transmate Portal
Freight Invoice
Freight invoice cost item selection is now stricter. Only cost items that are fully approved can be selected. Also a stricter filtering is done to avoid cost items from being invoiced twice.
Partners can now upload invoice documents by default, where this previously needed to be set up one by one.
Wrong currency field in UI field now fixed.
Project dashboard
Grid state is now preserved after modification. When modifying the poject inbound or outbound grid, the column order, the filters and sorting are saved so that when you return on the project dashboard page, you do not need to redo the column selection.
Project grid sorting is improved, to allow fixed sorting rules again. The sorting order can be defined in the partner's coding section and is used to enforce a different sorting.
Redirect after shipment deletion is now improved. If working from the project dashboard, you are now redirected to the dashboard once again instead of the shipment overview page.
API
The invoice API is improved to capture the grouped cost center / cost unit cost aggregation.
Other
Minor changes & performance improvements.
2023-01-16
We are pleased to announce the release of Transmate's newest version featuring a range of powerful new features for freight management and procurement. Our platform now offers an improved shipment overview, improved invoice cost filtering, as well as better partner management to streamline your logistics operations.
Transmate Portal
Shipment overview
The shipment overview has been converted to a grid type overview. This allows you to easily copy the data to an excel or to documents. With this overview, you can:
add columns from the available columns
pin columns
drag columns
The existing view and filter configuration remains in the view settings, allowing you to define which shipments are visible and which not, store and share shipment views.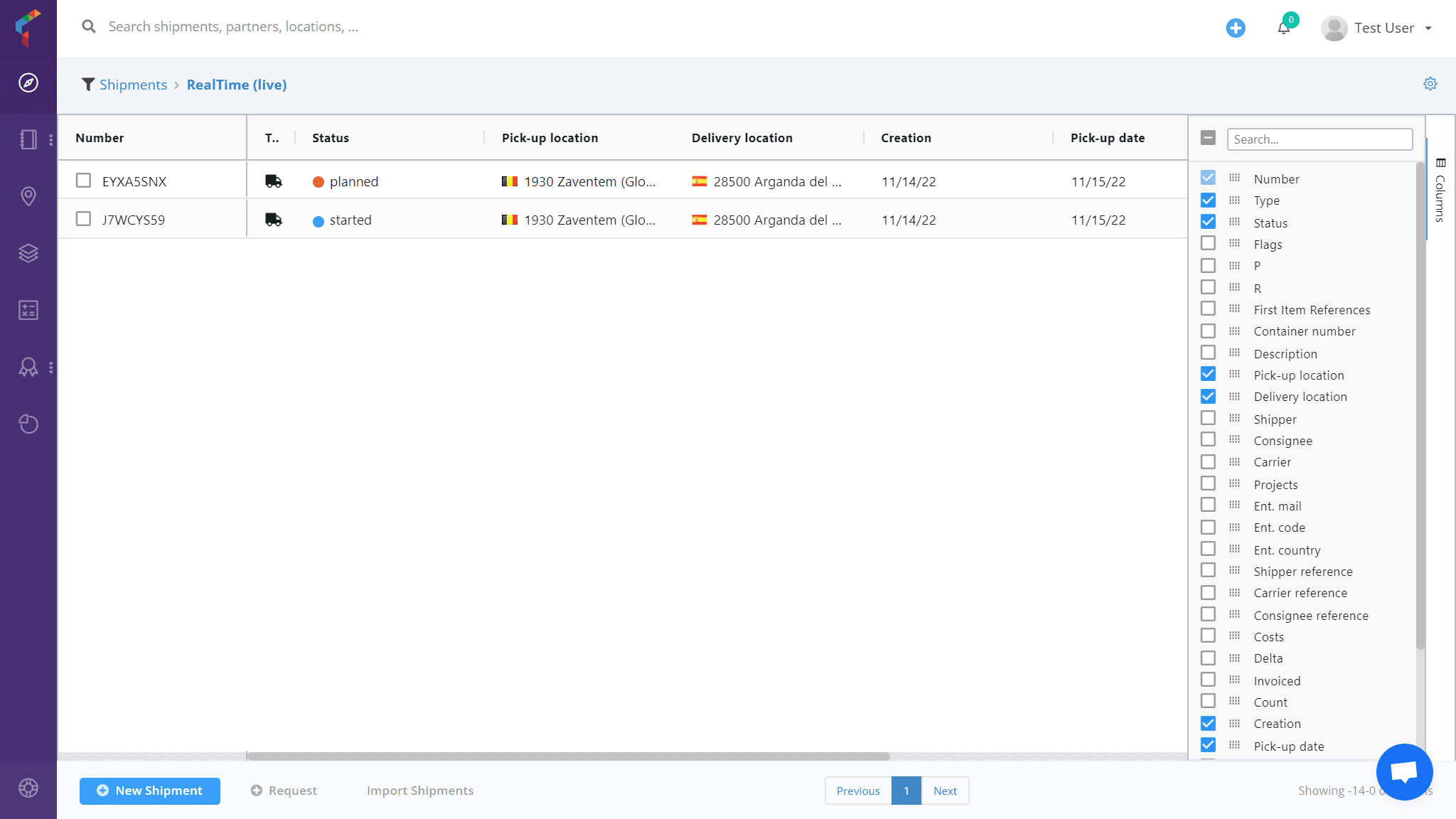 We also made a major improvement on query performance in the shipment overview, allowing searches to run faster.
The scheduling overview remains available for views that hold a location filter. To learn more about creating a schedule overview, please read the following article link: https://www.transmate.eu/help/shipment-scheduling-tool/
Project dashboard
We improved the sorting functionality by allowing sorting on all fields. Clicking on the header will toggle Ascending, Descending or sorting off.
API
The invoice api now returns a summary field as well, summarizing the details of the invoice lines by cost center and cost unit if allocated.
Other
We have continued optimizing our platform by fixing some minor bugs and adding some technical improvements.
2022-02-10
Highlights:
Warehouse picking screen improved with direct link to DHL and parcel carriers to fetch shipping options, costs and lead times.
Pick & pack of goods in boxes
Offer boxes for parcel shipping
Get shipping options with prices
Confirm option and retrieve parcel label
Print manifest from warehouse view
Get tracking numbers
2022-01-01
Highlights:
Brand new year, various updates are available!
Shipment overview: Make context more clear for partners (carriers that are bidding but have not yet assigned to will get a label indicating the bidding status)
Transport modes: Allow for express and parcel to be selected in transport modes
Spot bidding: Fix spot rate bidding for complex spot rate requests with multiple items.